Sponsor a child
Adopt-A-School: Feeding 50 students a $40 a week breakfast, an impossible task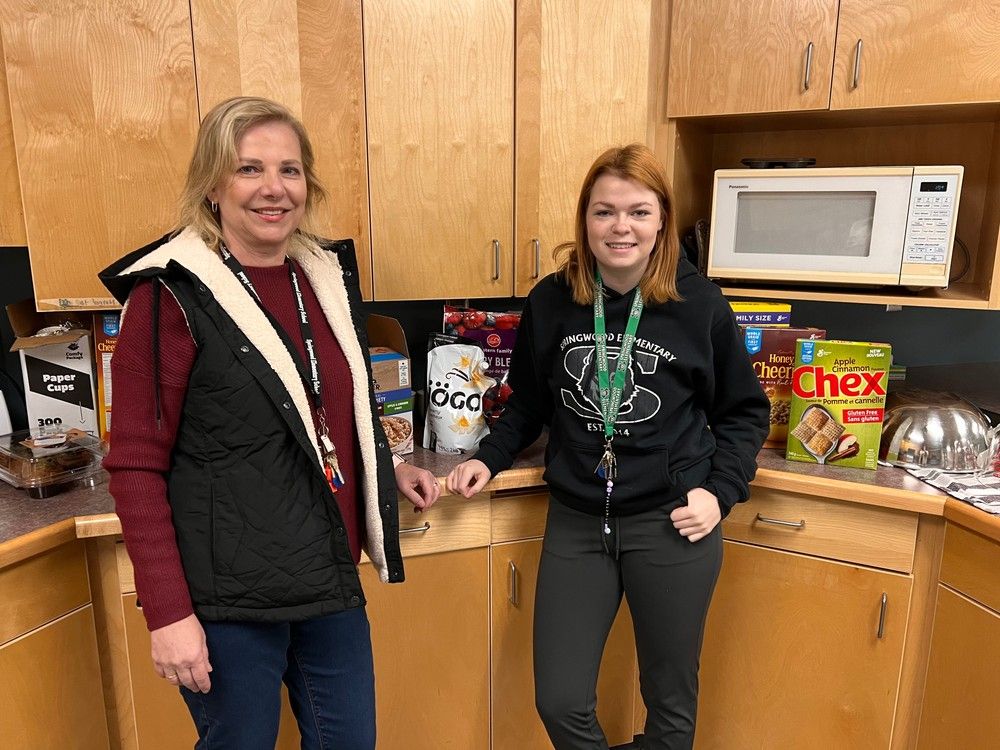 "We estimate that almost 200 (children) need some form of help from the school, be it food or school supplies." – Dannika McAllister, worker from Springwood Elementary Child and Youth Care
Content of the article
PARKSVILLE – There are fewer communities more livable than this small town on the east coast of Vancouver Island with its temperate climate, sandy beaches and the kind of natural beauty that attracts tourists.
Content of the article
It sounds bucolic and it is. But like every other community in British Columbia, Parksville is not immune to the hardships inflicted on poor families by a crushing cost of living crisis.
Content of the article
And like in much larger cities, the effects can be seen every morning when children arrive at school hungry and without food to get through the day.
Springwood Elementary School has 500 pupils and child and youth care worker Dannika McAllister believes there are a significant number whose families are struggling with the rising cost of food and school. lodging.
"We estimate that almost 200 (children) need some form of help from the school, be it food or school supplies. Food seems to be the biggest concern for a large portion of our families and our school is unable to meet requests for breakfast, lunch and snacks," she said.
Content of the article
McAllister – new to the school this year – has been asked to set up a breakfast program to feed those most in need. About fifty children were identified and invited to participate.
She was given a budget of $40 a week and attempted to feed them every day (most days only 20 show up), which, frankly, is impossible.
His plan was to try to find grants or other food sources to supplement what $40 buys these days, as the first two weeks of trying to run the program proved "unbearable."
A charity that helps the homeless and poor in the area participated and she received grain and other food, but by the end of October that help dried up.
"I reached out because we haven't received anything recently, but they've also run out of donations, so they couldn't give us anything."
Content of the article
She applied to the Vancouver Sun's Adopt-A-School program for $6,000 to buy food and a refrigerator, as she wants to open the program to any child who needs breakfast.
"At the moment it's by invitation only," she said.
"But we're not going to refuse a child who comes in – that's half my battle – I won't say no."
"And we don't want to say no, but last week, for example, I had kids asking for seconds and we don't have the funds to give them seconds and get through the week."
There are other sources of food at school. There is a food class that prepares meals and the school secretariat provides microwave lunches for those who have nothing to eat.
And there is also a supply of snacks available.
But she wants to give hungry children a good breakfast – pancakes, bacon and eggs – something "more substantial than the quick little meals we have now but, unfortunately, all we can afford".
Content of the article
She estimates that around 50 children come to school without breakfast and without food to get through the day.
"They will have absolutely nothing in their bag. It's really sad to see. It's heartbreaking to think of what these families have to go through to live like this.
Since 2011, the Vancouver Sun Children's Fund has distributed more than $10 million to hundreds of BC schools to feed and clothe children. This year, schools are seeking more than $2 million in grants to help underprivileged children.
---
How to make a donation
Content of the article
1 ONLINE: Donate online with a credit card at vansunkidsfund.ca.
2. PHONE: To donate by credit card, call 604-605-2264.
3. MAIL: Complete the donation form here and mail it to the address on the form along with credit card details or a cheque/money order payable to Vancouver Sun Children's Fund Society.
Vancouver Sun Children's Fund Society
The Vancouver Sun Children's Fund welcomes donations from readers year-round to enable us to help hungry children. Donations are tax deductible and 100 percent of donations received go to grant projects to help needy children in British Columbia.
Contact: Michelle Roebuck, Fund Administrator, at [email protected]or call 604-605-2264.
---
CLICK HERE to report a typo.
Is there more to this story? We'd love to hear from you about this or any other stories you think we should know about. Email [email protected]
#AdoptASchool #Feeding #students #week #breakfast #impossible #task