Sponsor
America's Cup: Prada to be replaced as event sponsor for 2024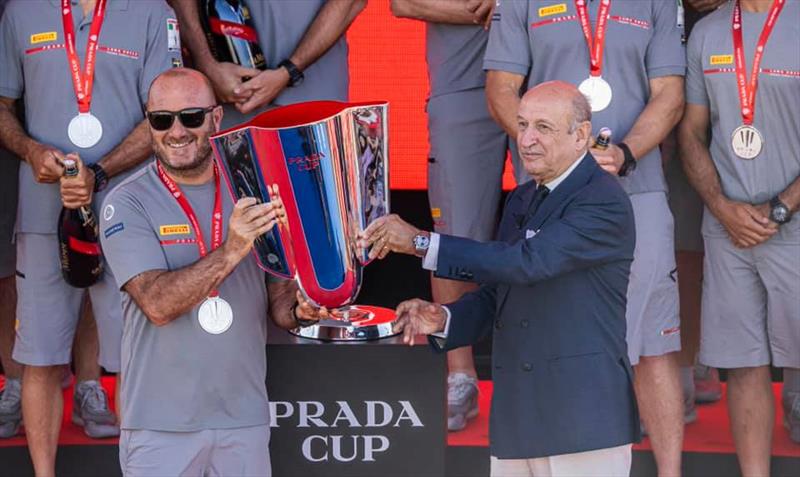 America's Cup: Prada to be replaced as event sponsor for 2024
by Duncan Johnson/Stuff 23 Oct 11:57 AEDT

As Prada sponsor representative in Auckland, the late Francesco Longanesi Cattani presents the Prada Cup to Luna Rossa skipper, Max Sirena © Carlo Borlenghi / Luna Rossa

The America's Cup is looking for new sponsors after Italian fashion giant Prada was ousted from the next regatta in Barcelona in 2024, writes Duncan Johnson on Stuff.co.nz.

Prada's decision ends an acrimonious period between Italian syndicate Luna Rossa Prada Pirelli and Emirates Cup champions Team New Zealand.
But the Kiwis see a huge upside in a new tiered Olympic-style sponsorship setup for the Cup's return to the European market which they say could allow them to fully fund the team and the event.
"We have completely revamped our sponsorship model since Auckland. This model was based on the relationship around Prada's dominance over all properties, it was broken and needed a new approach," Team New Zealand boss Grant Dalton told Stuff.
"The sum of the parts will be more beneficial than the individual part as we work to fund the event and the team in hopes of a successful defence."
The sponsorship campaign began on September 1 and Dalton said there was strong interest.
But he is also realistic: "We have the same problems as the rest of the world…there is a war and there is a recession. It doesn't get any easier.
"But Barcelona are helping a lot, and that's all we were hoping for, it's unbelievable."
For the full story Click here



.

#Americas #Cup #Prada #replaced #event #sponsor