Sponsor
Arthur Cox sponsors the Pegasus Hockey Club of Belfast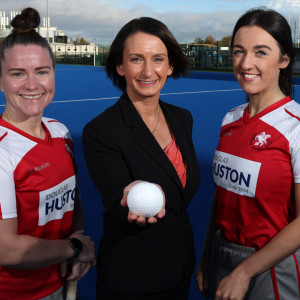 Arthur Cox has been named sponsor of Belfast-based women's hockey club Pegasus.
The club are one of the most successful in Ulster and Irish hockey history and were one of eight teams to compete in the Women's Euro Hockey League earlier this year.
Catriona Gibson, Managing Partner of Arthur Cox in Belfast, said: "Our sponsorship of the Pegasus Hockey Club is much more than a financial commitment; it also reflects our commitment to promoting women's sport locally.
"As a sponsor of Pegasus, Arthur Cox aims to help increase the participation of women in elite sport.
"Both Pegasus and Arthur Cox are leaders in their respective fields, and it is clear that we share the same commitment to developing the skills and abilities necessary to excel in corporate law and on the hockey field.
"We look forward to working together with Pegasus over the coming weeks and months and wish them the best of luck for the rest of the season."
Founded in 1961, Pegasus competes in the Women's Irish Hockey League, Irish Senior Cup, Irish Junior Cup and Ulster Shield, winning a record 31 times.
Michelle Rainey, Chair of Pegasus Hockey Club, said: "As one of Northern Ireland's premier hockey clubs, we are delighted to welcome Arthur Cox as Official Club Sponsor.
"It's very encouraging to have the support of important organizations like Arthur Cox as part of our goal to develop the future of women's hockey.
"We are extremely proud of the talented players we have at all levels at the club, and in partnership with all of our valued sponsors, we hope to continue to replicate the success that Pegasus has achieved in recent years."
Lucy McKee, associate of Arthur Cox and Pegasus striker, added: "Throughout my time at Arthur Cox, my colleagues have provided me with the professional support necessary to advance my legal career, and as a sponsor of Pegasus, the firm will also act as an advocate. for my sporting career and that of all the other players.
"Balancing my position with a top law firm and playing hockey at a high level can sometimes be a challenge, however, I am fortunate that Pegasus Hockey Club and Arthur Cox have helped develop my talents and abilities. on and off the pitch. »
#Arthur #Cox #sponsors #Pegasus #Hockey #Club #Belfast