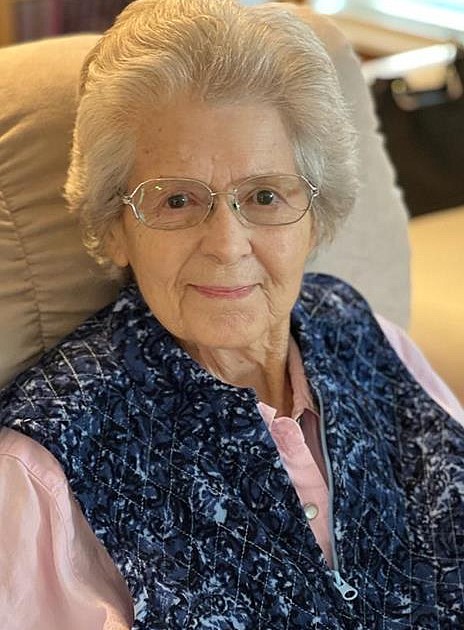 Eleanor "Marion" Hayden, 90, of Coeur d'Alene, Idaho, passed away peacefully at home surrounded by her family on Saturday morning, October 15, 2022.
She was born on July 27, 1932 in Hamilton, Montana, to Arthur Leroy Lyman and Caroline Lyman (Schofield).
As a child, his family lived in California, Idaho, Montana, Washington and Canada. Marion eventually found herself in Libby, Montana in the early 1950s, where she met the love of her life, Donald B. Hayden. They were married on August 12, 1956 in a small ceremony in Libby.
Don and Marion had been together for over 52 years.
Marion was a homemaker who found unique ways to supplement the family income. She sold "regular" calendars and stationery for many years. For a short time, the Haydens sold Amway, then found Watkins and started DMR Enterprises. They sold Watkins products for nearly 50 years and Marion and Don were often part of many small Montana events selling Watkins to the masses.
His most recent business venture was selling AIM products – BarleyLife – for over 30 years. Marion was the sponsor of an Iditarod sled dog team run by Libby Riddles. For several years she provided BarleyLife and AIM supplements to keep everyone healthy and strong. Marion also donated AIM products for children's health at an orphanage in the Philippines run by Kay Davidson.
Marion was a Seventh-day Adventist Christian who loved the Lord with all her heart. His mission on this earth was to help all who needed help. In Libby, Montana, she was known as the "Dorcas Lady" – our basement was stocked with blankets, sheets and household items.
She was always ready to help any family in dire need. She spoke to anyone who wanted to hear about the Love of Jesus. She held a vacation Bible school for the Libby Seventh-day Adventist Church in her home for 30 years.
Children, and eventually their children, from all over town came to her home and participated in lessons and crafts and learned more about Jesus.
Later, while living in Coeur d'Alene, she collected Bibles for "Christmas Behind Bars", a mission that donates Bibles to prisoners in the United States. She had collected over 4,200 Bibles in nine years!
Celebrating her 90th birthday with ladies from Adventist Praying Grandmas and Gathered for Good community services provided her with an additional 28 Bibles.
Donald and Marion enjoyed traveling after retirement. Their adventures have taken them on cruises to the Caribbean and the Panama Canal, as well as trips to Alaska, Hawaii, Canada and an entire road trip around the continental United States with their daughter, Dawn.
She aimed to have a picture of her feet in every ocean she could go to. During their travels, Marion always had a camera in hand. She took pictures of everything, but her favorites were all the foliage and flowers and all the people she loved.
Looking at all her photos, it is often difficult to find a photo with her because she is always the one who took them. She was known to leave her camera and purse in places she was busy admiring and had to go back and forth to retrieve them with a big smile to everyone keeping her things safe.
Marion is predeceased by her husband, Donald in 2007, her parents, three brothers: Leonard, John and Jim Lyman and one sister, Betty Lyman.
Marion leaves behind a wonderful legacy of gifts and family.
She is survived by her son, Marvin (Nancy) Keller and her daughters, Dawn Hayden and Rhea Hayden; three grandchildren, Aaron (Yoko), Jodine (Ian) Roman, Amber (Lloyd) Williams and her two bonus grandchildren, Cori (Ken) Lind and Katie (Gregory); Gulley will be greatly missed. She had nine great-grandchildren: Alyssa, Jordan, Kiran, Charlee, Kenna, Edison, Katelynn, Johann, and Alex; former son-in-law, Mark Gates and three furry grandchildren. She loved all of her family and friends and their pets who would give her as much love as she gave them.
A service is scheduled for 10:30 a.m. on Friday, October 21, 2022 at the Seventh-day Adventist Church in Libby, Montana, located at 206 Airfield Road, Libby, Montana.
Interment will follow at Libby Cemetery where Marion will be buried next to her beloved husband.
A second service will be held at 4:30 p.m. on Saturday, October 22, 2022 at the Coeur d'Alene Seventh-day Adventist Church located at: 111 E. Locust Ave., Coeur d'Alene, Idaho.
Online condolences and memories can be shared on www.schnackenbergfh.com.
Marion requested that in lieu of flowers, please donate to Donald and Marion's frequent charity – the Shriners Children's Hospital of Spokane: www.shrinerschildrens.org/en/locations/spokane.
Bible donations can also be made at Christmas Behind Bars where you can specify that Bibles should be purchased with your donation: www.christmasbehindbars.org/donate.
Marion's family would like to thank Schnackenberg Funeral Home for taking such good care of Marion and Libby and Coeur d'Alene Adventist Churches for giving her a home to love the Lord.
#Eleanor #Marion #Hayden