Sponsor
GFH announced as Ironman diamond sponsor | THE DAILY TRIBUNE | KINGDOM OF BAHRAIN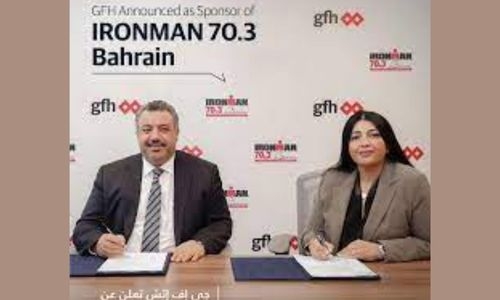 TDT | manama
The Daily Tribune – www.newsofbahrain.com
GFH Financial Group (GFH) was announced yesterday as the official diamond sponsor of the sixth edition of Ironman 70.3 Middle East Championship Bahrain, which will take place from December 7-9 at Reef Island.
The signing took place at the offices of GFH with GFH Managing Director Salah Sharif and Faalyat Managing Director and Board Member Amal Almurbati signing the agreement.
This collaboration aims to support and promote the development of sports initiatives and events in the Kingdom to help position Bahrain as an attractive sports destination that will attract regional and international athletes and sports enthusiasts to the Kingdom.
Commenting on the partnership, Sharif said, "We are delighted to be sponsoring the Ironman 70.3 Middle East Championship Bahrain.
This world famous sporting event has grown in popularity in the region and we are delighted to have it back in the Kingdom.
"Our sponsorship is in line with our group's commitment to supporting the development of sport in Bahrain and promoting our unique lifestyle developments throughout the Kingdom as world-class sport tourism sites that will help attract visitors and athletes around the world.
Bahrain already hosts many vibrant and diverse sporting events, many of which have long been supported by GFH.
"We continue to seek opportunities to support world-class sporting events that not only support the promotion of an improved and healthier lifestyle for our people, but also play a role in attracting visitors and investment to our beautiful Kingdom."
Almurbati added, "We are thrilled to have GFH on board to support Ironman 70.3 Middle East Championship Bahrain.
This support will further enhance the healthy competition that benefits Bahraini talent and also attracts international visitors.
"Their efforts and contribution will make this event a resounding success."
Ironman 70.3 Middle East Championship Bahrain has a lot to offer athletes of all ages.
.

#GFH #announced #Ironman #diamond #sponsor #DAILY #TRIBUNE #KINGDOM #BAHRAIN