Sponsor
Heartbeat Hot Sauce Co. becomes title sponsor of Team Solitaire – Racer X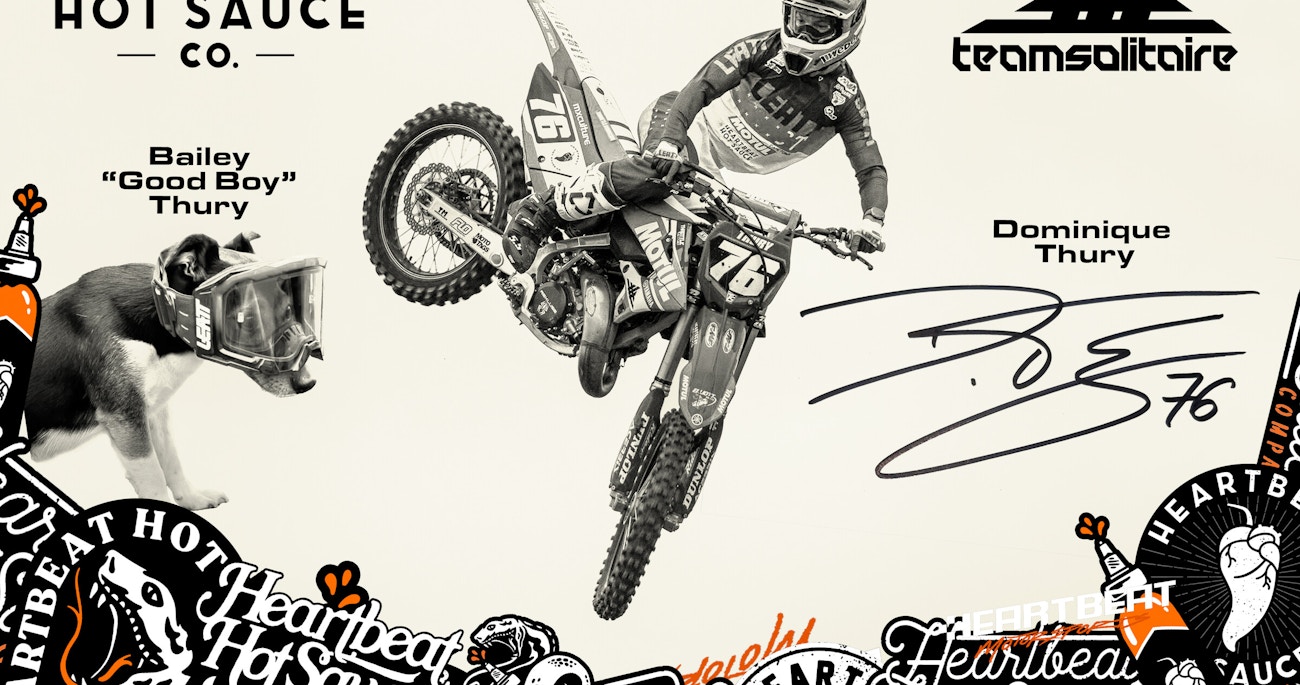 Learn more about Heartbeat Hot Sauce Co. in the following Team Solitaire press release:
Heartbeat Hot Sauce Co. signs multi-year sponsorship deal with Team Solitaire
When the 2023 Monster Energy Supercross series kicks off in January, Team Solitaire will be in line to launch its new title sponsor, Heartbeat Hot Sauce Co.
With all recipes developed, cooked, bottled, packaged and distributed from their dedicated facility in Thunder Bay, Ontario. The Canadian hot sauce company has seen rapid growth of late with the most notable trips to NASCAR and a partnership with UFC's Dustin Poirier.
Chris Elliott couldn't be more excited about heading to Anaheim in January.
"It's a big deal for us, not only have we added a new main sponsor who we believe has a product that will be very well received by our industry…it's a company that has the same family vibe as our team and countless connections for us on a personal level being from my hometown in Canada," Elliott said. "We can't wait to get Heartbeat Hot Sauce into the hands of all of our fans. We can't wait to roll open with not only a brand new look, but also for the first since 2020…a brand new roster of runners. With that said, it's important to us to thank Nuclear Blast Records for their years of support and assure fans that we will remain connected to the music industry.
After making his debut for Dominique Thury at the Red Bull Straight, his signing has been confirmed for 2023 and the team are expected to formalize their full roster for 2023 on December 1.
This will be the 5th consecutive year for the team with Yamaha.
For behind-the-scenes prep and all other Team Solitaire stuff, be sure to follow the team across all platforms:
Follow-Instagram | Tik Tok | Twitter: @teamsolitaireSX
"Like" Team Solitaire on Facebook – www.facebook.com/teamsolitaireSX
Follow Heartbeat Hot Sauce Co. on all social platforms – @heartbeat_hotsauce and get yours on www.heartbeathotsauce.com and stop by the Team Solitaire platform throughout the season for some Heartbeat Hot Sauce Co. goodies.
About Heartbeat Hot Sauce Co.
Heartbeat Hot Sauce Co. was founded in 2015. A hobby of making hot sauce for themselves at home quickly turned into a full-fledged production company after word of mouth spread. prevalent in their hometown of Thunder Bay and beyond. All of their sauces are made with maximum flavor and balance. Each sauce is bright, bold, wholesome and deliciously unique. They ferment their peppers using traditional methods before cooking them with a few simple, quality ingredients. They don't add any water, thickening agents, or chemical preservatives of any kind, making their sauce as natural as possible. All of their recipes are proudly developed, cooked, bottled, packaged and distributed from their dedicated facility in the south core of Thunder Bay, Ontario, Canada. The goal is to bring Heartbeat Hot Sauce to as many hands as possible, while maintaining our small-batch process.
.

#Heartbeat #Hot #Sauce #title #sponsor #Team #Solitaire #Racer