Sponsor
Lawmakers sponsor bill to protect workers on Election Day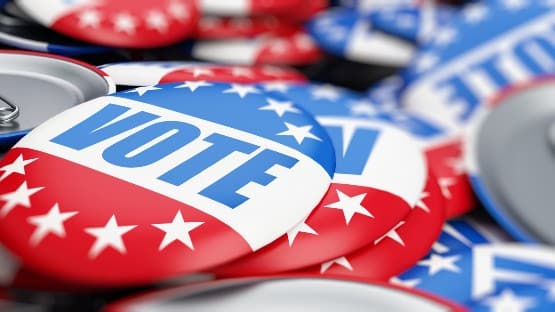 The Election Workers Protection Act would provide more resources to ensure the safety of election workers.
Senator Mark Warner, a member of the Senate Rules and Administration Committee, is cosponsoring the legislation to address a reported increase in threats against election workers, according to a news release.
On Sept. 14, CBS News reported that Kim Wyman, election chief at the U.S. Cybersecurity and Infrastructure Security Agency (CISA), broke down as she spoke of "vitriol targeting election officials," including in his home state of Wyoming. Wyman has worked with elections for 30 years.
Wyman told CBS News: "Threats like 'we're going to hang you.' And 'I hope someone puts a bullet in your head.'
The midterm elections are less than 60 days away, and officials are "preparing for a range of potential physical security risks brought about by conspiracy-laden voter fraud allegations, the Capitol insurgency and violent rhetoric. spreading beyond an outspoken fringe of election deniers into mainstream politics. "
Resources to recruit and train election workers and ensure their safety would be provided by the Election Workers Protection Act. FFederal safeguards would also be instituted to protect election workers from intimidation and threats.
"Because of their role on the front lines of our democracy, local election workers have been subjected to increasing harassment and violent threats from those seeking to overturn the results of legally held elections," Warner said. in the press release. "As chairman of the Senate Intelligence Committee, I am troubled that so many Americans, including a former president, were so enthusiastic about helping and abetting adversaries like China and Russia to undermine confidence in our elections. and faith in our democratic process. In the face of this new and unfortunate reality, we must take steps to ensure that election workers have the support and protection they need to do their jobs safely.
The legislation would also establish grants to states and some local governments for the recruitment, training, and retention of poll workers, as well as grants for poll worker security; direct the Department of Justice to provide training resources regarding the identification and investigation of threats against election workers; providing grants to states to support programs protecting the personally identifiable information of election workers; making the threat, intimidation or coercion of election workers a federal crime; expand the prohibition on voter intimidation in the current law to apply to ballot counting, canvassing and certification of elections; expand the federal ban on doxing to include election workers; and protecting the power of election officials to remove poll watchers who interfere with or attempt to disrupt the administration of an election.
#Lawmakers #sponsor #bill #protect #workers #Election #Day