eteam sponsor
MotoAmerica: Team Hammer announces new sponsor and Superbike riders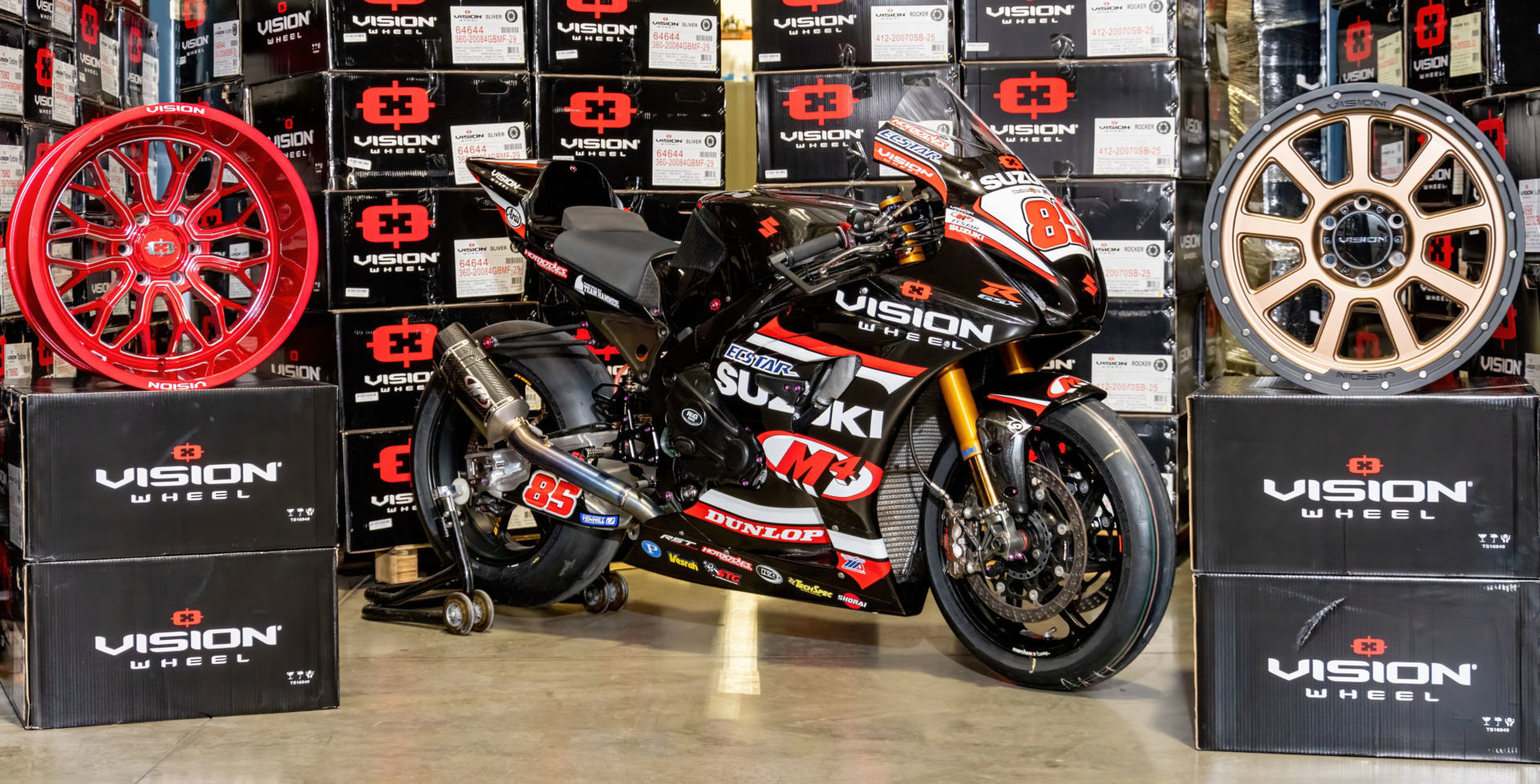 Suzuki and Team Hammer announce 2022 riders
Escalante and Lewis bring their championship experience to Vision Wheel M4 ECSTAR Suzuki
BREA, Calif., February 7, 2022 — Suzuki Motor USA, LLC announces the return of Team Hammer as the Official Road Racing Partner for the 2022 MotoAmerica AMA/FIM North American Road Racing Series. Team Hammer will field top athletes from the Superbike, Supersport and Stock 1000 classes in 2022, all on Suzuki GSX-Rs. The team welcomes new 2022 title sponsor Vision Wheel and will compete as the Vision Wheel M4 ECSTAR Suzuki.
Riding for Vision Wheel M4 ECSTAR Suzuki in 2022 will be 2020 MotoAmerica Supersport Champion Richie Escalante, and 2021 Stock 1000 and Superbike Cup Champion Jake Lewis in Superbike. Sam Lochoff and Liam Grant will compete in the Superport class, and Wyatt Farris will fight for the team in the Stock 1000.
2020 MotoAmerica Supersport Champion Richie Escalante joins the Vision Wheel M4 ECSTAR Superbike team. Hailing from Tizayuca, Mexico, Escalante earned a spot on the team's GSX-R1000R Superbike with his impressive results in 2021. Escalante finished a solid second place behind Team Hammer in the 2021 Supersport Championship with multiple consistent victories and podiums. Escalante is looking to challenge for the championship and is striving to reach the top of the pack for the 2022 season.
"First of all, I'm very happy to be working with Team Hammer, so thank you to (team owners) John and Chris Ulrich for this opportunity," Escalante said. "My goal is to fight for the Superbike championship, and I'm ready to start working towards that goal. I'm looking forward to applying my skills to the Superbike class. I'm also excited to see how my aggressive style performs on the Suzuki I like to push hard and slide under braking and the Suzuki GSX-R will be a great bike for my riding style.
Veteran road racer Jake Lewis joins Team Hammer on a Suzuki Superbike for 2022. Lewis is the reigning Stock 1000 champion and won the MotoAmerica Superbike Cup on a Team Hammer-built Altus Racing GSX-R1000R in 2021 "I'm so excited to be back with Team Hammer, this year on a Superbike. I couldn't be happier," Lewis said.
Vision Wheel M4 ECSTAR Suzuki retains super-fast South African Sam Lochoff in Supersport for 2022. Lochoff is looking to build on the momentum of his spectacular rookie Supersport campaign and challenge for the MotoAmerica Supersport title once again this year. season aboard a Suzuki GSX-R.
Joining the Vision Wheel M4 ECSTAR Suzuki Supersport team is Liam Grant. A native of Boulder, Colorado, Grant quickly rose through the ranks, launching his road racing career just five years ago. After establishing himself as a championship winner at the club level with the Chuckwalla Valley Motorcycle Association and the Utah Sport Bike Association, the surging Grant made his MotoAmerica debut in 2019. The second-generation racer then completed his first full MotoAmerica campaign in 2020. finished fifth in Junior Cup competition – scoring one pole and four top five finishes along the way – before moving to Supersport in 2021.
"I'm really excited about this opportunity, and first I want to thank Team Hammer and Suzuki for giving me this chance," Grant said. "We know the bike is very good and the team has had a lot of success. One thing is for sure, I'm going to give it my all this season. I've been training and working very hard in the gym to be ready. goal is to be competitive and get some solid results this year while I learn and improve. I'm really happy."
Wyatt Farris returns to the Vision Wheel M4 ECSTAR Suzuki team for 2022 competing in the Stock 1000. With very consistent finishes in 2021, veteran Farris completes a strong team of athletes, all focused on top-notch racing performance .
ABOUT SUZUKI
Suzuki Motor USA, LLC. (SMO) distributes motorcycles, ATVs, scooters, auto parts, accessories, and ECSTAR oils and chemicals through an extensive dealer network in 49 states. Suzuki Motor Corporation (SMC), based in Hamamatsu, Japan, is a diversified global manufacturer of motorcycles, ATVs, scooters, automobiles, outboard motors and related products. Founded in 1909 and incorporated in 1920, SMC has business relationships with 201 countries/regions. For more information, visit www.suzuki.com.
ABOUT TEAM HAMMER
The 2022 season will mark Team Hammer's 42nd consecutive year of operation as a professional road racing team. Race bikes built and fielded by Team Hammer have won 128 AMA Pro and MotoAmerica National races, finished on the AMA Pro and MotoAmerica National podiums 332 times, and won 11 AMA Pro and MotoAmerica National Championships, as well as two South American Championships FIM (in Superbike and Supersport.) The team has also won 137 total endurance races (including seven 24-hour races) and 13 WERA National Endurance Championships with Suzuki motorcycles and holds the American record for mileage covered in a 24 hour race. The team also competed in the televised Formula USA National Championship of the 1990s, running the famous methanol-fueled GSX-R1100 "Methanol Monster" Superbikes and won four F-USA championships.
ABOUT THE VISION WHEEL
Founded in 1976, Vision Wheel is a nation's leading supplier of custom wheels for cars and trucks, and a premier manufacturer of custom wheels and tires for ATVs, UTVs and golf carts. Vision Wheel looks beyond current trends and into the future in the development, manufacture and distribution of its wheels. Vision's street, racing, off-road, American Muscle and Milanni lines of wheels are distributed nationally and internationally through a network of trusted distributors. Vision Wheel also produces the Vision It AR app to allow users to see what their wheel of choice will look like on their vehicle prior to purchase and installation. For more information about Vision Wheel, visit www.visionwheel.com.
#MotoAmerica #Team #Hammer #announces #sponsor #Superbike #riders