eteam sponsor
MotoGP: Monster and Yamaha announce multi-year sponsorship renewal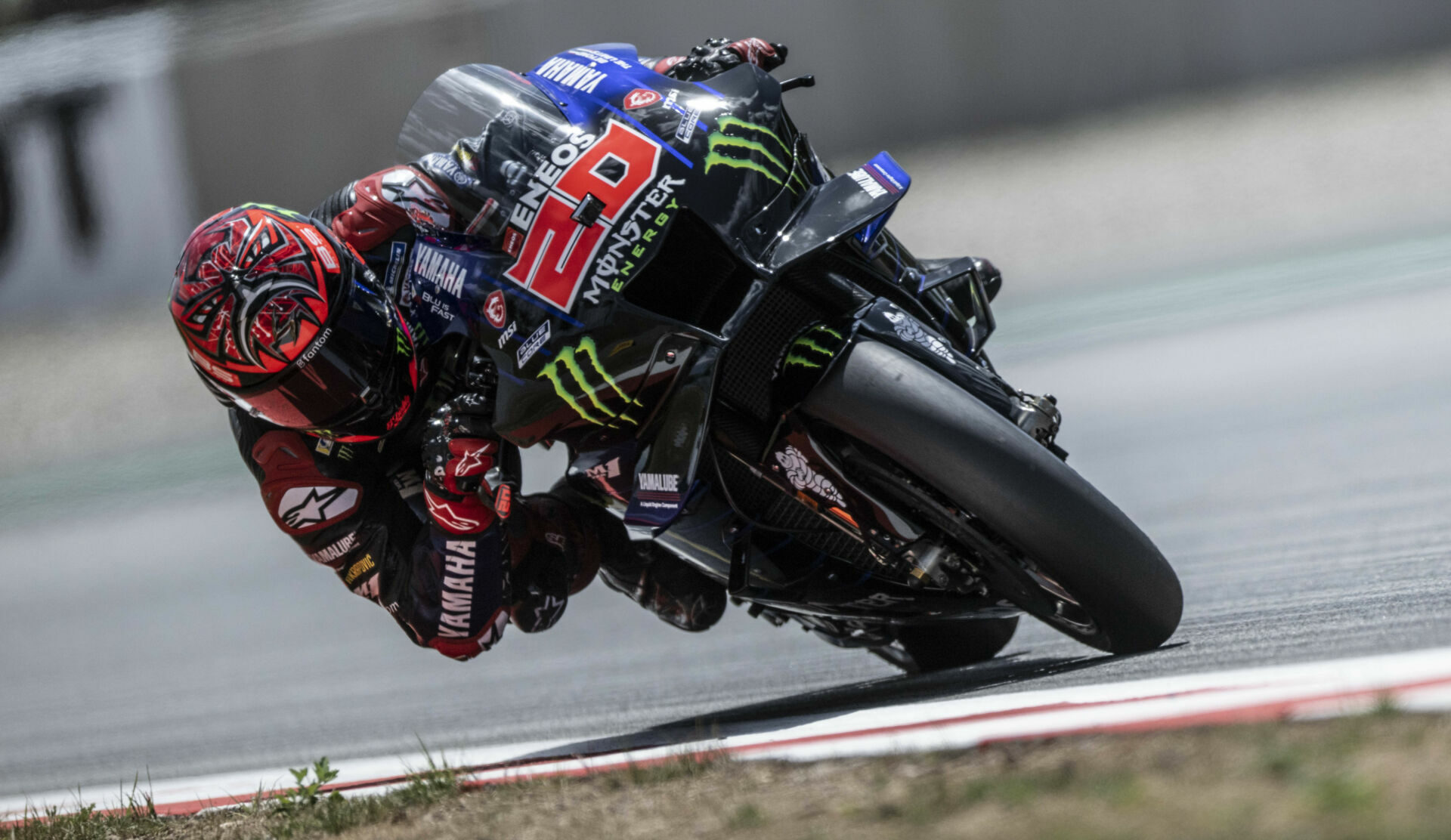 MONSTER ENERGY COMPANY AND YAMAHA FACTORY RACING MOTOGP TEAM ANNOUNCE RENEWED MULTI-YEAR TITLE SPONSOR
Montmeló (Spain), June 4, 2022
Monster Energy Company and Yamaha Motor continue their global alliance by confirming a second consecutive multi-year agreement. Monster Energy will continue to be the title sponsor of the Yamaha Factory Racing MotoGP team.
Yamaha is pleased to announce that Monster Energy Company will remain the title sponsor of the Yamaha Factory Racing MotoGP Team and will therefore continue to race as the Monster Energy Yamaha MotoGP Team.
The multi-year deal sees Monster Energy extend its title sponsor contract and further strengthen its longstanding partnership with Yamaha's Factory MotoGP team. Monster Energy has been the team's official sponsor since 2013 and became the title sponsor in 2019. Meanwhile, the Yamaha factory team won the MotoGP triple crown in 2015, the team title in 2016 and won the title 2021 MotoGP World Champion.
Both Fabio Quartararo and Franco Morbidelli are established Monster Energy athletes. Reigning world champion Quartararo, who is confirmed to stay with the team for two more years, is once again in contention for the championship. He currently leads the standings by 8 points. Meanwhile, ahead of tomorrow's Gran Premi Monster Energy de Catalunya, the team sits third in the team standings, 10 points from first.
Renewed title sponsorship means Monster Energy's iconic "brand" will continue to feature prominently in years to come on the factory YZR-M1, all Yamaha Factory Racing MotoGP team assets and leathers. pilots.
The Monster Energy-Yamaha global alliance also extends to other racing disciplines such as Monster Energy Supercross, AMA Motocross and the FIM Motocross World Championships, emphasizing that Monster Energy and Yamaha are key players and partners in the world of motorcycle racing.
LIN JARVIS
GENERAL MANAGER, YAMAHA MOTOR RACING
"The Gran Premi Monster Energy de Catalunya is the perfect opportunity to announce the continuation of our team's strong partnership with Monster Energy Company. They will be the title sponsor of our Factory MotoGP team for several MotoGP seasons to come.
"Yamaha and Monster Energy have been close partners in various motorsport disciplines for many years. Monster Energy has a deep understanding of the motorsports industry and MotoGP – the world's premier motorcycle racing business – which allows us to work together very seamlessly. They became our team's official sponsor in 2013 and title sponsor in 2019.
"This renewal of title sponsorship is a testament to the great trust and respect we have built over the years, as well as the shared desire of both organizations to continue to support motorsport and promote our brand values ​​in the world's best racing series.
"The new agreement signifies Yamaha and Monster Energy's intention to further strengthen our partnership in the years to come."
RODNEY BAGS
PRESIDENT AND CO-CEO OF MONSTER ENERGY COMPANY
"Monster Energy and Yamaha have a long history of racing together at the top of motorcycle racing and during that time we have forged a successful partnership both on and off the track.
"Watching Fabio win the MotoGP World Championship last year aboard his Monster Energy Yamaha YZR-M1 was one of the many highlights we enjoyed during our time together, and we look forward to many more years of racing. with Yamaha in MotoGP.
"We are delighted to be able to announce this extension during our title sponsorship round at Barcelona and wish Franco, Fabio and the whole team success for the weekend and for the rest of the season."
#MotoGP #Monster #Yamaha #announce #multiyear #sponsorship #renewal