Sponsor a child
Nell Nolan: American Diabetes Association; Son of a saint's grand opening; La Salle Summer Party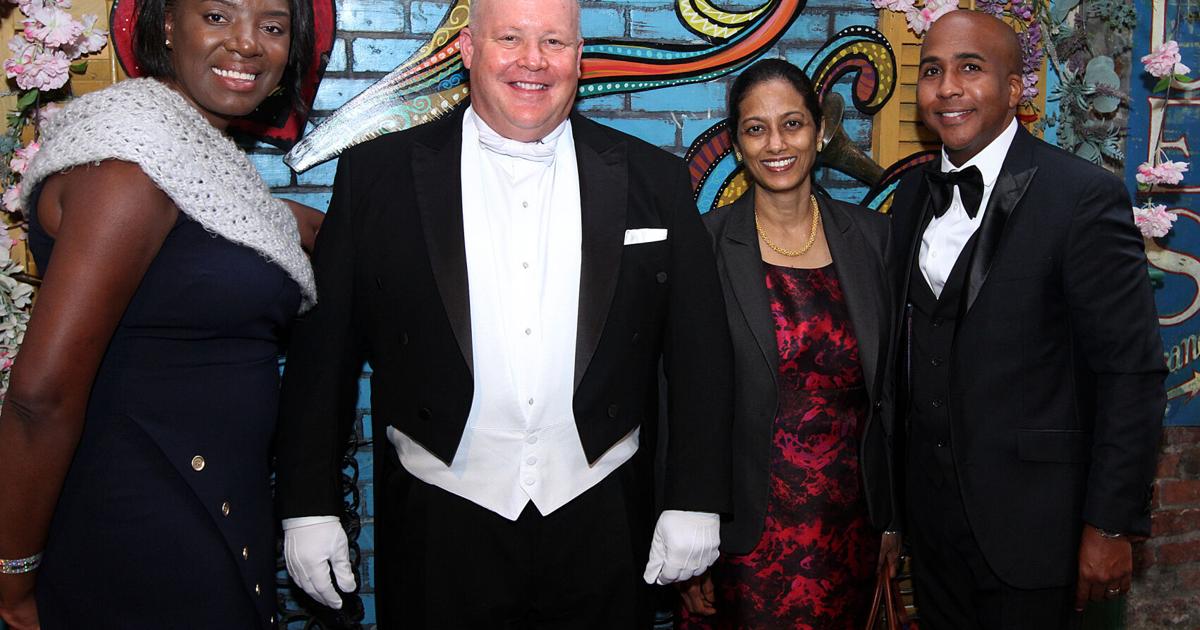 Three is a crowd!
Pig Thanks
"The Boaring Twenties" marked a pig era when the American Diabetes Association held its Louisiana Kiss a Pig Gala at the House of Blues. During this fundraising evening of dinner, live music, dancing and auction, the infamous "kissing the pig ceremony" took place. Credit where porcine credit was due: The formal case showed appreciation for "the animal's heroic role in diabetes research as the first source of insulin." Sow grateful!
Playing off the 1920s 'Roaring', the gala did a 'Boaring' billing – with the tip of a piggy bank boater! – and decorated accordingly. CVS Health and SASSO were major sponsors, while House of Blues and Parish Rice provided junk. At the auction, 34 items sparked boar and boar bidding with a stay at Turquoise Place in Orange Beach, Florida as the main attraction. For musical momentum, Kermit Ruffins and Brass-A-Holics shook many.
In the crowd of 175 people, those who fought were masters of ceremonies Kelsey Davis and Rob Krieger, Fox 8 (for a certain "animal ecumenism"); ADA National Boar – oops! Board — Chairman Christopher "Chris" Ralston, who also chairs the Louisiana Community Leadership Board; and Acting Chief Development Officer of ADA Alana Segur. Sponsored representation came from Stan Levy, Council Powell Jr., Mark McKay, dr. Madi Rajulapaliand Tori Kahl. Alexandra Schofield is ADA's Executive Director for Louisiana and Mississippi.
The pig party is gross — ahem, of course, to raise money for ADA, and the contestants who raise the most funds earn the privilege of kissing the pig. Remember, this is to show appreciation for the pig. In the youth category, the winner was Rory Monier, while big names in the adult category Kiss a Pig won Chester Schofield and, for his $annoying $support, finalist Wise Jennifer.
sons of saints
"A Home for Our Boys" took center stage as the Son of a Saint family hosted the grand opening ceremony for the Ochsner Health Son of a Saint Bivian Lee Jr. Center. This partnership was an example of the "power of working together to uplift and care for the young people of New Orleans and build a stronger, healthier Louisiana." The new center is located at 2803 Philip Street.
Wink Design & Events took care of the decorative aspects of conviviality. Balloon arrangements, flowers, event signage and dim lighting added atmospheric aspects. The supply came from Saba, Gianna Restaurant and Bonfire Catering. Choice culinary notes included tahini hummus and Sicilian beef. As people graze and watch, the auditory attribution calls for a jazz trio of sax, bass, and guitar.
Headliners included the President and CEO of Ochsner Health Warner Thomasson of a holy chairman of the board Bill Hinesnew orleans district attorney Jason Williams and spouse Lizcity ​​council members JP Morel and Lesli HarrisNew Orleans Saints Hall of Fame-r Colston Brandsand athletic director of the University of New Orleans Tim Duncan. Also, Nina Compton and Larry Miller, Alon and Emily Shaya, Harold and Carol Asher, Bob and Sheryl Merrick, Tamica Lee and Barry Smith, Paula Peer, Peter Trapolin, and Bivian "Sonny Lee IIIson of a holy founder and CEO.
Lightness of alum
Every summer, De La Salle high school brings together alumni for an on-site party where the warmth appreciated is that of friendship.
The brown and white school colors were abundant in the area, where guests thronged, enjoying plenty of good food. Twenty-eight dishes satiated the collective palate with shrimp remoulade, eggplant with seafood and corn and crab bisque among the favorites. A good tasting came from the signature cocktail, Roman Candy Cavalier Crush, which was created by Stacy Scott. More numbers were those of the 50/50 raffle and the winner Timmy Glennon. He donated half of his earnings to the school.
More headliners were DLS President Paul Kelly with Julia; event co-chairs Mo Crain and Caroline Huber with the respective spouses Sharon and Keith; patron party sponsors David Crabtree, Rodrek Williams (with Carlette) and Mat Baer (with Connie); and former Chairman of the Board Tommy Epling. Noted, too, were John and Carolyn Altobello, George Young, Michael and Yvette Semmes, Neuville and Jule Hotstream, John C. Bowman, Gordon and Maggie Stewart, Jose and Laurie Prado, Sean Dowd, Pierre and Cheryl Champagne, Robert and Laure Mineo, Jeff Toups, Fallon Egan, John Humphreys, Mike Turner, Billy Seward, and Franck and Michelle Lopicollo. To name a few within the Cav crowd.
Former student Steve Arceneaux ('76) and Black Rain were the music creators with a focus on 1970s hits. The evening was also a birthday bash for Steve, who received a cake and gift bag from the Cavalier shop.
.

#Nell #Nolan #American #Diabetes #Association #Son #saints #grand #opening #Salle #Summer #Party