Sponsor
NUFC Q&A: 'Higher Profile' Shirt Sponsor and St James's Park Stadium Expansion Plans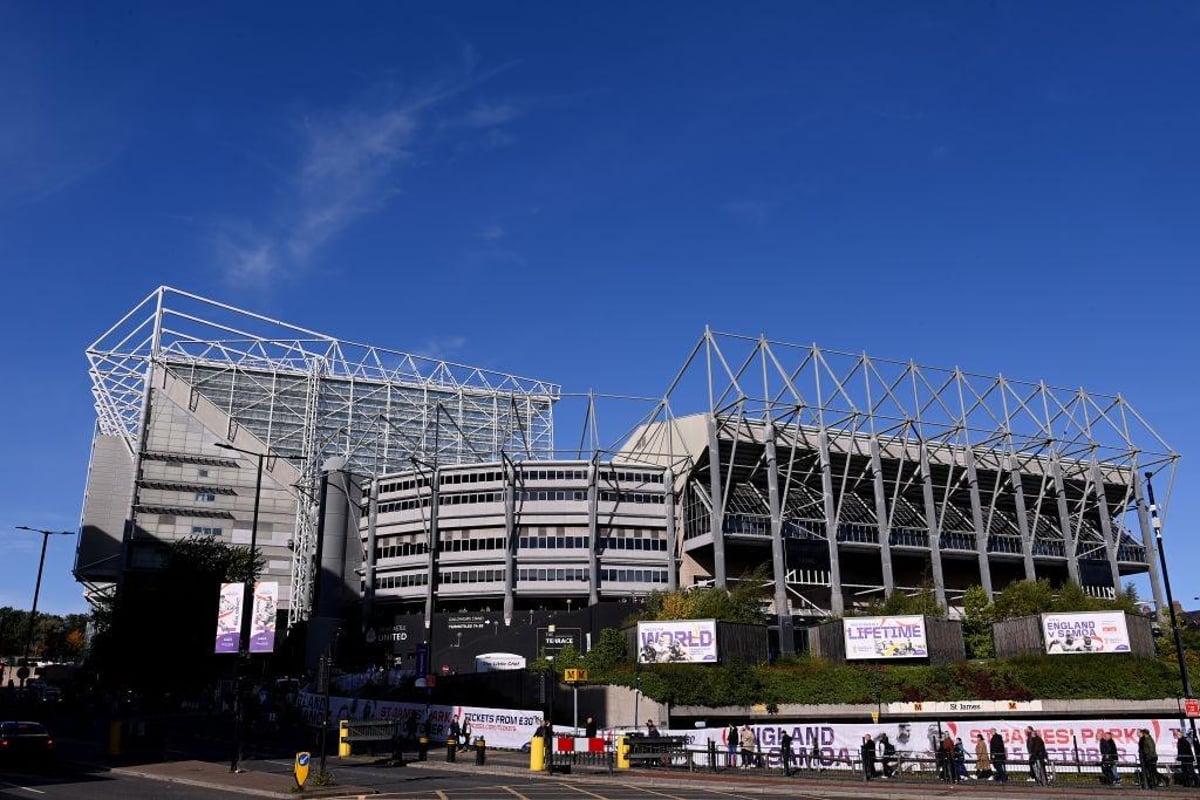 Our Newcastle United writers Miles Starforth and Dominic Scurr answer the latest questions about Newcastle United…
How would you rate Newcastle's recent big wins over Brentford and Fulham?
MS: Deserved. Newcastle came into the Fulham game feeling they hadn't quite gotten the points return they deserved in their opening seven games. The return of Callum Wilson to Craven Cottage and the availability of Bruno Guimaraes following an injury scare while on international duty have been very important for the team. United are now getting the results their performances deserve.
A general view outside the stadium prior to the Premier League match between Newcastle United and Brentford FC at St. James Park on October 08, 2022 in Newcastle upon Tyne, England. (Photo by Stu Forster/Getty Images)
DS: With the way Newcastle have played and the chances they have created this season, it was only a matter of time before they scored a big win. But Eddie Howe's side went further and scored big back-to-back wins, scoring nine goals in the process. While both results were fully deserved, the most encouraging thing is that they still feel like they can take things up a level or two yet.
Where does Bruno Guimaraes rank among Newcastle's all-time great midfielders at this early stage?
MS: It's obviously too early to draw too many comparisons, but it's hard to think of too many players in the nearly 20 years I've covered the club who have shown similar interest. Kieran Trippier is a world-class player, and Guimaraes is heading into that bracket. He has got everything. Guimaraes is a technically gifted player with terrific vision, passing ability and athleticism. He can win the ball and his goalscoring record, so far, is phenomenal. I'm not sure United had a midfielder like him back in the Premier League days.
DS: Looking at Guimaraes' performances in isolation since joining Newcastle, he's the best midfielder I've seen play for the club in terms of pure ability, albeit with a very small sample. I'd say he's already world class and good enough to get into any Premier League team right now, something we haven't been able to say about a Newcastle player for over 20 year.
Newcastle player Bruno Guimaraes reacts during the Premier League match between Newcastle United and Brentford FC at St. James Park on October 08, 2022 in Newcastle upon Tyne, England. (Photo by Stu Forster/Getty Images)
Read more
Read more
Andy Carroll shows Newcastle United's inner fan with Steve Bruce's wild dig after…
What was it like talking to Dan Ashworth and Darren Eales this week?
MS: First of all, after the silence of the Mike Ashley years, it was good to see senior executives facing the media and talking openly about their plans for the club. Long may this continue. Eales, clearly, is passionate about the work he's taken on, and his track record speaks for itself. It seems like a nifty date. Ashworth spoke with great clarity and his role is central to the club's project. He can put in place the structures and pathways on the footballing side to ensure long-term success.
What's the latest news on the sponsor front for Newcastle?
Sean Longstaff of Newcastle United celebrates with his teammates Dan Burn, Sven Botman and Fabian Schar after scoring their team's third goal during the Premier League match between Fulham FC and Newcastle United at Craven Cottage on October 01, 2022 in London, England . (Photo by Henry Browne/Getty Images)
MS: What we do know is that the 'long-term contract' the club signed with FUN88 will end early at the end of the season. We can expect a new, more prominent shirt sponsor for the 2023/24 season which will generate more revenue than the current deal with FUN88.
DS: Last week, Newcastle's majority owners PIF released accounts showing more than £2billion had been invested by its holding companies in football sponsorship. The majority of this was about Saudi football, but hopefully it's a sign of things to come at Newcastle as they consider a new shirt sponsor.
What about stadium plans?
MS: The club are clear on their intention to stay at St James's Park and, if possible, to increase the capacity of the stadium given the demand for tickets. That will be easier said than done, especially since the club no longer owns the Strawberry Place ground. That said, the will is there to increase the capacity of the stadium, one way or another, and I hope that one day we will see an enlarged St James's Park.
Newcastle Head Coach Eddie Howe shares a joke with Joelinton after the Premier League match between Newcastle United and Brentford FC at St. James Park on October 08, 2022 in Newcastle upon Tyne, England. (Photo by Stu Forster/Getty Images)
What is the latest injury at Manchester United?
MS: The pool of players available for the match is more or less the same as last weekend. Alexander Isak will not be available and the striker may not be back for the two fixtures next week. Jonjo Shelvey is "close" to a comeback, according to Howe.
DS: Manchester United will be without Harry Maguire, Donny van de Beek and Aaron Wan-Bissaka this weekend as a late call is made on Anthony Martial. Scott McTominay is also suspended while Martin Dubravka is ineligible to play against his parent club.
Should Allan Saint-Maximin start at Old Trafford?
MS: It's tough because Jacob Murphy has done well in the last two games. But Saint-Maximin, no doubt, would add something to Howe's starting XI, and, given his pre-injury form, there is a compelling case to start him at Old Trafford.
DS: It's hard to argue against a team that has scored nine goals in two matches without Saint-Maximin starting. That said, Manchester United are a different test to Fulham or Brentford and Newcastle should name their strongest possible XI, which includes Saint-Maximin.
How important is next week in Newcastle's season?
MS: I think next week offers the sixth-placed club a chance to consolidate their position in the league. Newcastle, beaten just once so far this season, have enjoyed a strong start to the season, and a few results in that three-game streak would set the team up for a string of demanding games ahead of the World Cup.
DS: We're already at the quarter point of the season and these next three games won't define that, but they could help set the tone in which Newcastle head into the World Cup break. Facing Manchester United and Tottenham Hotspur on either side of a home game against Everton is a tough week on paper. Two of these teams occupy the positions that Newcastle hope to break into. For them to do that this season, they would have to get some results against them.
#NUFC #Higher #Profile #Shirt #Sponsor #Jamess #Park #Stadium #Expansion #Plans