Sponsor a child
Republicans introduce federal Don't Say Gay bill weeks before midterm elections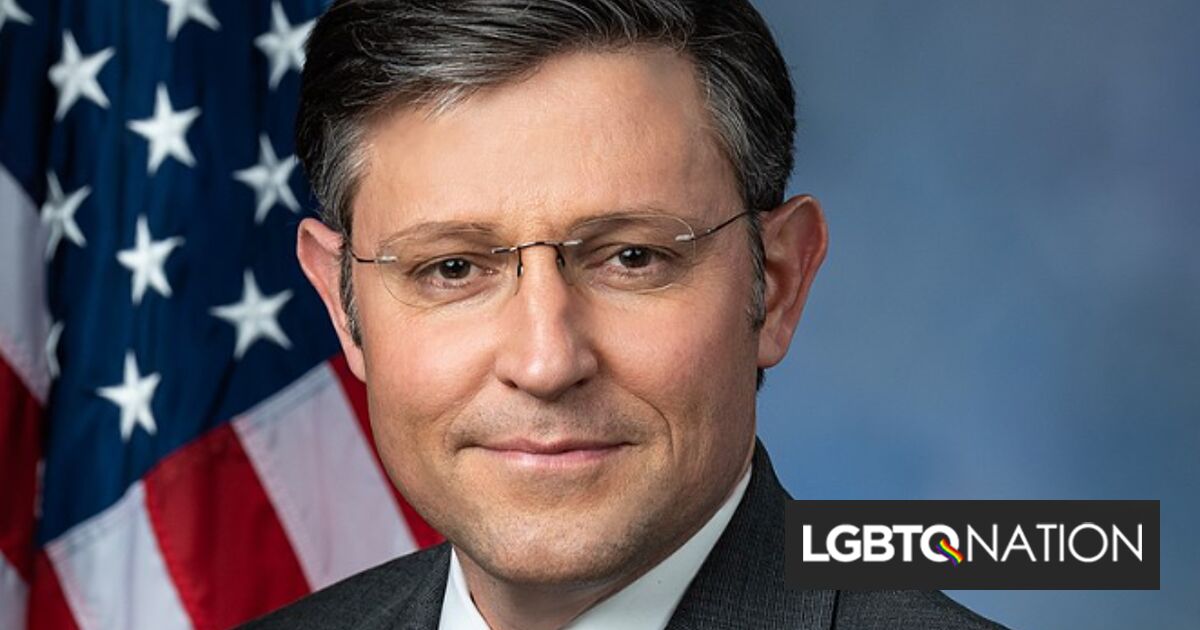 Representative Mike JohnsonPhoto: United States House
House Republicans introduced a bill that would prohibit any entity receiving federal money from talking about sexual orientation or gender identity to children under 10, going well beyond the law Don't Say Gay from Florida.
Thirty-two House Republicans signed on as co-sponsors of the bill introduced by Rep. Mike Johnson (R-LA), which he called the "Law against the sexualization of children." The bill would reduce federal funding to libraries, school districts, hospitals, government entities or other organizations for "hosting or promoting any program, event or literature involving material of a sexual nature."
The bill defines "material of a sexual nature" as "any subject involving gender identity, gender dysphoria, transgender, sexual orientation, or related topics," which could include an elementary school teacher keeping a picture of their spouse on their desk or a sign at a hospital with a rainbow flag on it if the children are entering the hospital. It is unclear whether simply allowing an LGBTQ person to work in a role where they interact with children would be considered a violation of the law.
Johnson's bill also prohibits "any obscene or lascivious depiction or description of human genitalia." Basic instruction on body parts often part of lessons aimed at helping victims of child sexual abuse speak up and get help. Instead of defining exactly what is prohibited by the bill's vague descriptions, it allows parents to sue if they believe a government entity has violated the law.
"The Democratic Party and its cultural allies are on a misguided crusade to immerse young children in sexual imagery and radical gender ideology," Johnson said when announcing his bill.
He said his bill would end "events where adults dance salaciously or strip naked for children" without citing examples of recipients of federal funds who have hired strippers to perform for children . Instead, he mentioned an Air Force base in Virginia that hosted a Drag Queen Story Hour, even though drag is not a form of stripping; in fact, it often involves wearing an excessive amount of clothing.
Opponents of the Don't Say Gay bills say they isolate LGBTQ youth and children of LGBTQ parents, teaching them that they and their families are too ashamed to discuss it in public, contributing to the rate disproportionate suicide among LGBTQ youth.
"Last year, nearly half of LGBTQ+ youth considered suicide, but that didn't stop 33 of my GOP colleagues from introducing a federal 'Don't Say Gay' bill today," Rep. Mondaire Jones (D-NY) wrote on Twitter. "I am convinced that the people who introduce this bill are more likely to go to hell than the children they harm."
With Democrats controlling the House of Representatives, Senate and White House, this bill has no chance of passing. Instead, it was likely introduced just before the midterm elections to make it a hassle for Republicans to campaign and drive their base to the polls.
The bill's co-sponsors are Republican Representatives Bob Good (VA), Brian Babin (TX), Jeff Duncan (SC), Vicky Hartzler (MO), Doug Lamborn (CO), Markwayne Mullin (OK), Lauren Boebert (CO), Gregory Steube (FL), Debbie Lesko (AZ), Daniel Webster (FL), Ralph Norman (SC), Randy Weber (TX), Van Taylor (TX), Mary Miller (IL), Lance Gooden (TX ), Louie Gohmert (TX), Glenn Grothman (WI), William Timmons (SC), Clay Higgins (LA), Steve Womack (AR), Tracey Mann (KA), John Joyce (PA), Scott Franklin (FL), Burgess Owens (UT), Matt Rosendale (MN), Russ Fulcher (ID), Tom Tiffany (WI), Nicole Malliotakis (NY), Doug LaMalfa (CA), Andrew Clyde (GA), Michael Guest (MI) and Dan Bishop (NC) .
As his colleagues face re-election battles in November, Johnson is running unopposed.


#Republicans #introduce #federal #Dont #Gay #bill #weeks #midterm #elections