Sponsor
The story of how this pro got a sponsor exemption in last year's Shriners is the most Vegas thing you'll ever hear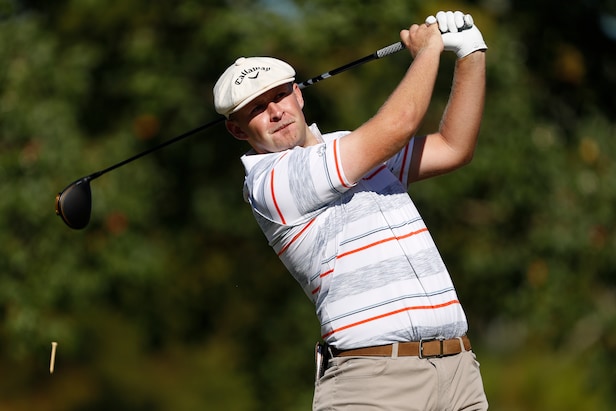 Professional golfers are literally betting on themselves on every tee shot, so they're no strangers to a little action. But playing 1-on-1 for a coveted start on the PGA Tour as a struggling Korn Ferry Tour pro? Well, that's just the most diabolical thing we've ever heard.
That's exactly what happened a year ago between Harry Hall and Taylor Montgomery, who are both PGA Tour rookies and on the field at this week's Shriners Children's Open. That was not the case in 2021, when former UNLV teammates were each vying for a sponsor exemption at TPC Summerlin.
Patrick Lindsey, the Shriners Tournament Director, was having a hard time deciding which former Runnin' Rebel to give it to. So he had the fairest – and most Las Vegas – idea he could think of: play against each other for this.
"Taylor and I have a track record on this golf course going back to last year," Hall said Wednesday. "Patrick, who's the tournament director, he was really stuck between picking me and Taylor for a bye, and he actually made us play for that, a duo – it was a stroke play event, just Taylor and me, and we played on a Friday a few weeks before this event, and I managed to beat Taylor by one to get into the Shriners last year, and I ended up finishing eighth, so that was a big moment in my career.
We would say so. Hall's one-shot win over Montgomery and the ensuing top 10 earned him nearly $205,000, which, not to sound harsh, was $205,000 more than Montgomery that week. Safe to say Hall's gamble paid off, deservedly, in Sin City.
"I think we were pretty close," Hall said of the game. "The two-under or three-under playing 13, and I think I eagled it and Taylor bogeyed it and I had a little three-shot cushion in the last few holes, which was big."
At the sound, Montgomery didn't think it was that close.
"Him and me last year, he kicked my ass here for qualifying," said Montgomery, who will play alongside Hall for the first two rounds this year. "It will be fun to play with him. He's just a really good guy, and he's really smart with his game, and the future is very bright for him."
Good to see there's no bad blood. The two are still very close and they play a game almost every week at Shadow Creek, where Montgomery's father, Monte, is the golf manager.
"I always knew Taylor would be here one day," Hall said. "And playing Thursday and Friday together this week is a special time for me and a special time for the community and UNLV golf. Hopefully we can get some support and play some good golf too."
So far this season, Montgomery has exacted revenge on Hall, earning back-to-back top-10 finishes at Fortinet and Sanderson Farms, while Hall has missed the cut in both events. Perhaps the Englishman can build on the fond memories of last year and regain bragging rights this week. Whatever happens, the friendship will remain firmly intact.
"We're still friends no matter what," Hall said. "Taylor is like a brother to me. Along with his dad in Shadow Creek, all his friends and my friends, so I'm very lucky that they've treated me like family for the past few years, and I don't I don't think that will ever change whether we are competing for this trophy this week or maybe the Ryder Cup next year."
Or the exemption of another sponsor. However, the way they are both doing, that won't be necessary anytime soon.
.

#story #pro #sponsor #exemption #years #Shriners #Vegas #youll #hear