Sponsor
Two great local companies sponsor two big Swindogs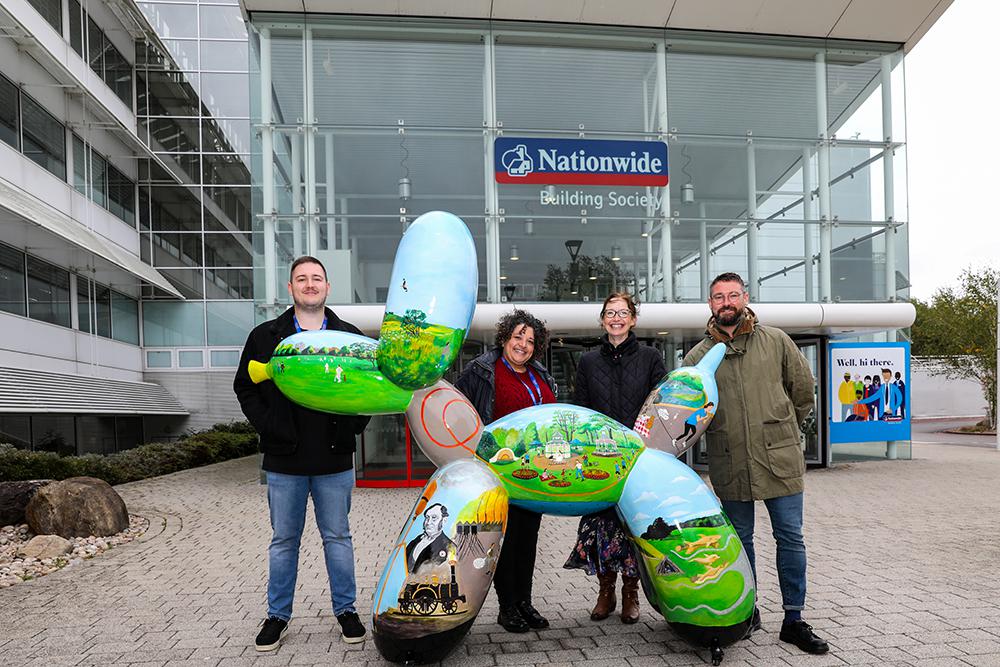 By Jessica Durston – October 12, 2022
arts and cultureAttractionsCompanyCommunity
Nationwide and Intel joined the Big Dog Art Trail Pack and each sponsored a Swindog.
The Intel team posed with the giant Swindog
Nationwide and Intel are the latest companies to pitch in to sponsor a Swindog and participate in the big event that will take place in Swindon in 2023.
The oversized Swindogs will create the first-ever balloon dog art trail in the UK and raise vital funds for local children's charity, Julia's House.
The Nationwide Building Society's head office has been based in Swindon for many years and they have set themselves the task of creating Oakfield, a new neighborhood of houses in their home town.
Next summer, Nationwide's Swindog will take pride of place in the development.
Jack Watling, social investment marketing consultant for Nationwide, said: "We are so excited to sponsor The Big Dog Art Trail. Julia's House does amazing work in our community and it's great to have the opportunity to support them.
"We look forward to proudly displaying our dog at Oakfield, our development of 239 new eco homes on Marlowe Avenue in Swindon."
Swindon has been home to Intel's UK headquarters for over 40 years.
Darren Howell, Community Engagement Manager for Intel UK, said: "Intel Corporation UK is delighted to sponsor one of the sculptures to feature in The Big Dog Art Trail and looks forward to launching next summer.
"The project is a fantastic way to engage our local community and beyond, as participants explore the different places where these sculptures will reside. In addition to social engagement, the trail will also help raise funds to support the vital work that the children of Julia's House hospice charity provides to families every day.
Nationwide and Intel join Imagine Cruising, Swindon Advertiser, Jazzbones and inSwindon town center BID, which have already signed up to sponsor a Swindog.
A Big Dog Art Trail spokesperson said: "Sponsoring a Swindog and joining The Big Dog Art Trail pack will bring tremendous benefits to your business. You will be part of an event that draws thousands of visitors to your local community. . .
"The journey will raise awareness of your business or organization in a unique and memorable way that will get everyone talking. It will help you create a feel-good factor among your employees, customers and stakeholders. You will raise funds for Julia's House children's hospice, helping them continue their amazing work in your local community."
Members of the public can visit The Big Dog Art Trail website to find out how to sponsor a Swindog and be part of this upcoming artistic journey project: www.bigdogarttrail.co.uk/sponsors


#great #local #companies #sponsor #big #Swindogs