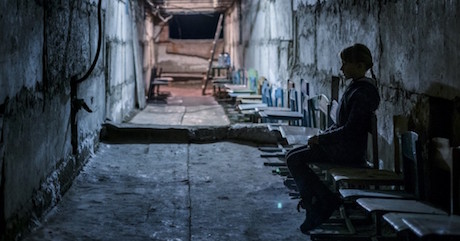 As Ukraine declared a nationwide state of emergency on Thursday, UNICEF called on all warring parties to allow full humanitarian access to families and children who have long suffered the adverse effects of the protracted conflict in the country — and whose lives and well-being are now even more at risk.
"Heavy weapons fire along the line of contact has already damaged critical water infrastructure and education facilities in recent days," said UNICEF Executive Director Catherine M. Russell. , in a February 24 statement. "Unless the fighting stops, tens of thousands of families could be displaced, dramatically increasing humanitarian needs."
The fighting has taken a heavy toll on Ukraine's civilian population, including 510,000 children
UNICEF works tirelessly in eastern Ukraine, deliver lifesaving programs to affected children and families as the fighting takes an increasingly heavy toll on the civilian population of 3.4 million people – including 510,000 children – living in the Donbass region.
Even before the February 24 attacks, the crisis had disrupted the daily lives of people living on both sides of the line of contact between government-controlled and non-government-controlled areas, leaving them in continued need of humanitarian assistance. The socio-economic tensions and health impacts of the COVID-19 pandemic have only worsened the situation.
As needs increase due to the conflict, UNICEF is rapidly scaling up emergency response efforts from field offices in Kramatorsk, Mariupol, Luhansk and Donetsk, while working with partners to expand relief operations across the country.
UNICEF emergency response in Ukraine
The main emergency interventions include:
health, hygiene and emergency prepositioning school supplies as close as possible to communities close to the contact line
truck safe water to conflict-affected areas
support mobile child protection teams providing psychosocial care to children traumatized by chronic insecurity, responding to cases of violence and abuse against children and helping children separated from their families
work with municipalities to ensure there is immediate help for children and families in need
The long-running programs already in place will continue under UNICEF's action plan for the country for 2022. These include efforts to immunize children against measles and polio. – and to consolidate critical water, sanitation, electricity and heating facilities and school infrastructure that have already been badly damaged and remain dilapidated.
Education support focuses on improving access to learning where it has weakened due to weak teaching capacity. Support for health and nutrition aims to improve quality services where they remain limited.
"The past eight years of conflict have inflicted deep and lasting damage on children on both sides of the line of contact," Russell said. "The children of Ukraine desperately need peace now."
UNICEF joins UN Secretary-General Antonio Guterres calling for an immediate ceasefire, and for all parties to uphold their international obligations to protect children from harm and to ensure that humanitarian actors can quickly and safely reach children in need. UNICEF also called on all parties to refrain from attacking water and sanitation systems, health facilities and schools – all critical infrastructure on which children depend.
Help UNICEF bring aid to hundreds of thousands of children in eastern Ukraine affected by violence – and hundreds of thousands more as UNICEF rushes to respond to the increasingly urgent needs across the country. Your contribution can make the difference. Please donate.
Donate now
Top photo: Ten-year-old Lera sits in the basement bomb shelter of her school in Mariinka, Donetsk Oblast, eastern Ukraine. © UNICEF
#UNICEF #Children #crossfire #Ukrainian #crisis